News Details
The Deviation of Financial Enhancement in Iraq's Public Budget: The White Paper as a Solution
20-12-2020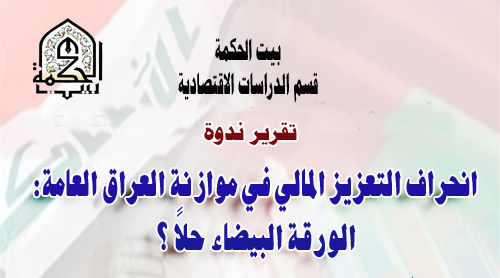 The Deviation of ReinforcementFinancial in Iraq's Public Budget: The White Paper as a Solution


House of Wisdom / Department of Economic Studies held a symposium entitled: (The Deviation of Financial Enhancement in the Public Budget of Iraq: The White Paper as a Solution), by Dr. Mazhar Muhammad Saleh / Adviser to the Prime Minister, at exactly 8:30 pm on Sunday 20/12/2020 at Zoom electronic platform.
Session Chair: Prof. Falah Hassan Thuwaini - Consultant, Department of Economic Studies
Session Rapporteur: Eng. M. Hussein Ghazi Rashid - Rapporteur of the Department of Economic Studies
Dr. Falah Thuwaini opened the symposium by taking a look at an illustrative chart that shows the most important goals that the White Paper seeks to achieve. It represents a comprehensive roadmap aimed at reforming the Iraqi economy and addressing the serious challenges facing it, which have accumulated over the past years due to wrong policies, mismanagement, corruption and absence of planning in addition Almost total dependence on oil as the main source of state revenue. Among these goals are redefining the role of the state and society - making radical improvements to the state's management of the financial system to achieve stability in it - creating the appropriate environment to create a vibrant economy by improving the basic legal and administrative infrastructure - structuring the financial and banking system - addressing the factors that led to low labor productivity - Protecting vulnerable groups during and after implementing reforms.
After that, Dr. Mazhar began his speech by asking the following question: Has a financial deviation occurred from the year 2003 to now in Iraq, as the government's gross domestic product reaches 65% and public expenditures amount to approximately 45% of the gross domestic product, meaning that the government has a heavy weight in the economy And it has been shown that financial reinforcement represents a financial policy that aims to achieve two goals:
Reducing the budget deficit so that it does not exceed 3% of GDP, which is the permissible limit according to international standards.
Reducing the accumulation of indebtedness so that it does not exceed the threshold of 60% of GDP, in order to achieve financial space that makes it possible to borrow when needed.