News Details
The "Young Author" winner of #SZBA2020,
08-04-2020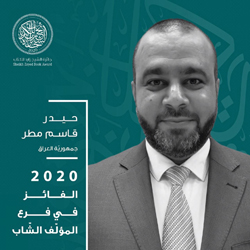 bayt alhikma announced that the researcher Dr. Haider Qasim Matar has won the Sheikh Zayed Prize for the Young Writer for his book (Islamic Theology in German Orientalist Studies - Yusef Van S as a Model)

Issued by Dar Al-Rawafed Cultural Publishers and Ibn Al-Nadim for Publishing and Distribution in 2018. This came with the official announcement made by the Sheikh Zayed Book Award Administration, in which it announced the winners of its fourteenth session for the year 2019-2020, which included six international writers and writers as well as an independent literary magazine A tribute to their distinguished creative and intellectual productions that reflect an intellectual and artistic approach that contributes to enriching the writing movement in contemporary Arab culture.

The book written by researcher Dr. Haider Qassem Matar is an extensive, deep and accurate study of the science of theology, its definition, origin, flags and basic issues. It is also a study on Western Orientalism and it follows the efforts of orientalists with a focus on the Germans among them, especially "Yusuf Van S" who is considered one of the most important and His most prolific production and encyclopedia, especially in his encyclopedia "Theology and Society in the Second and Third Centuries of Hijra".

It is worth noting that Dr. Haider Qasim Matar is one of the distinguished researchers at the House of Wisdom Foundation of the Presidency of the Council of Ministers in Iraq and holds the position of Vice Chairman of the Board of Trustees of the aforementioned institution and Editor-in-Chief of the Journal of Court Historical Studies issued by the Department of Historical Studies in the House of Wisdom. We would like to note that a ceremony will be held by the House of Wisdom after the end of the Corona epidemic crisis, God willing, befitting the great achievement of the Iraqi researcher who raised the name of Iraq high in the field of writing and writing despite the circumstances and challenges that our beloved Iraq is going through.
https://ara.reuters.com/article/entertainmentNews/idARAKCN21R1NH