News Details
Historical summary of Iraqi university professors
24-02-2020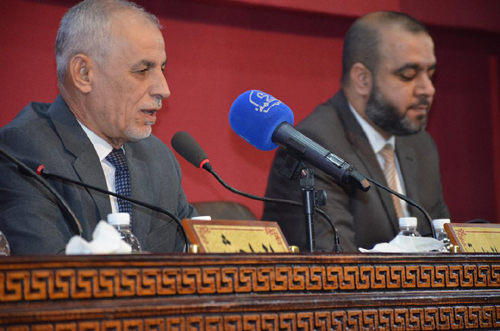 Bayt alhikma: Honors a group of distinguished professors in Iraqi universities


The Department of Historical Studies at the House of Wisdom held a scientific symposium entitled "The Historical Achievement of Iraqi University Professors" in the conference hall on Monday, February 24, 2020.
The symposium was attended by the Chairman of the Board of Trustees of the House of Wisdom, Dr. Ihsan Al-Amin, and a group of academics and professors from Iraqi colleges and universities. It was chaired by Assistant Professor Dr. Ismail Al-Jabri with the participation of professors: Dr. Jawad Kazim Al-Shayeb from the University of Al-Qadisiyah, Professor Karar Hussein Kazem from the University of Al-Muthanna, Dr. Sattar Jabbar Al-Jabri from the University of Baghdad, Dr. Ali Hadi Abbas Al-Haddawi from the University of Babylon, Dr. Jinan Abdul-Jalil Al-Hamundi from the University of Erbil and Professor Kawakib Naguib Muhammad from Anbar University.
The symposium dealt with presenting the bright aspects of a scientific constellation and the lofty research positions of historians in the contemporary history of Iraq. Where a celebration of the great historians professors was presented by presenting a scientific biography of their personal and scientific lives made by a group of researchers who were apprenticed by the honored professors. Dr. Ihsan Al-Amin also presented honorary shields to the celebrated professors who have done a lot in the field of scientific research and are still the pulse of giving and distinction. Farouk Sadiq Al-Omar from Basra University, Professor Falah Hassan Al-Asadi from Al-Mustansiriya University, Professor Nabila Abdel-Moneim Daoud from Baghdad University, and Professor Dr. Hashem Yahya Al-Mallah from the University of Mosul. It is noteworthy that this honor and this celebration is the third for history professors in Iraqi universities that are held by the Department of Historical Studies at Bayt Al-Hikma.